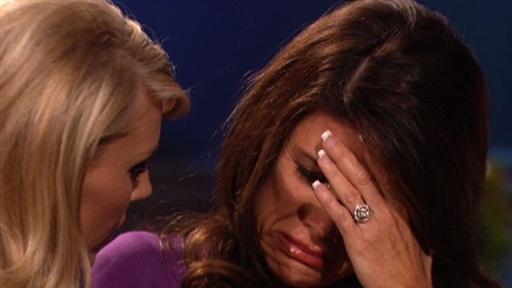 Though I try so hard to stay away, sometimes there are things skankier than Lindsey Lohan's leggings that I just can't stop watching... namely the trainwreck that was "The Real Housewives of Orange County." Between Vicki's narcissistic advice giving and Tamra's idea of "morality" (
did we see the reunion show, people?!) there is a serious dearth in reality. But my favorite housewife would have to be Lynn--who on her "official"
blog
noted that while at the reunion show she " had so much fun .... I got to meet the other housewives on the show and take pictures with them." Wow, Lynne, that was a good time! You got to take pictures with them? Was this the first time they invited you to a press release? Never before were you photographed with your bitch whores?
And as far as her having "fun" at that reunion show—maybe she didn't watch…maybe she wasn't "there." Does she not remember the part where
she cried on camera
because everyone was being so "hurtful"?! (To which Vicki replied, 1. She NEVER said anything mean about Lynne—Andy Cohen about crapped himself at that, and 2. Reassured the viewing audience that she TOO cried at times). This scene was quickly followed by
Tamra's rant
about how Gretchen is a gold-digging whore bag—ah, yes, Lynne, that does sound like a good time! Ah, but Lynne's not completely stupid, in true snob fashion she is now selling those fabulous cuffs we got to watch her hot glue together on the show on
her website
for $250+ each! I'm sure each will be laced with Lynne's drool as she bites on her tongue squinting her eyes trying to get that hideous Claire's Boutique broach on perfectly centered…